Wigs are a significant investment. Proper care and storage of your wigs will help extend the lifespan of your wigs. Basically, you need to keep your wigs away from direct sunlight, heat, and dust as they can make the wig color to become dull and could even degrade the wig. You should also store your wigs in your bedroom closet to make them accessible to you and to keep them away from pets and children. Your method of storage would depend on the number of wigs you have, how often you wear them and how much space you have available for storage. Here are some tips on how to store your wigs properly.
Use Wig Stands, Mannequin or Styrofoam heads: For wigs that you wear often, Wig stands are perfect for keeping them when you're not wearing them or when you're drying them after washing. Once you start getting a large collection of wigs, you'll definitely need a wig stand or mannequin. They're a must-have for any wig wearer as they'll help to maintain the wig structure and style. Wig Stands are foldable and collapsible so they are great for travel. Styrofoam heads are also great alternatives as they are lightweight and inexpensive. Mannequin heads are however more expensive and require space.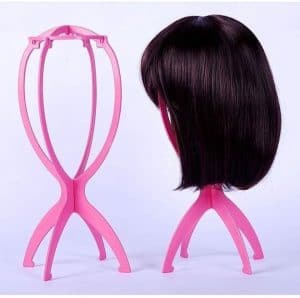 Use a Rack (Iron or Wooden): If you don't have enough space for wig stands or mannequins, use attach a wire rack to your wall and hang your wigs. The wire racks are inexpensive, can hold up multiple wigs and keep your wigs aerated. However, do not hang the wigs to the hooks on the rack by your closure or frontal as this could damage the lace on your closures or frontals
Use a Wig Box: For long-term storage, you can store your wigs in a wig box. Some wigs come in a wig box. If your wig doesn't come in a wig box, you can store your wig in the original pack in which it came. Before storing your wigs in a wig box, make sure that the wigs are clean, dry, detangle and nicely folded. Fold the wig in half from ear to ear and place a shaper made of tissue paper at the crown of the wig to help retain the wig shape. Again, make sure the wigs are not damp before storage to avoid the growth of molds on your wigs. You wouldn't want that!
Finally, place the wig box in a cool, dry place.
Please drop your comments and questions in the comment section.
Follow us on Instagram!!!