Protective Hairstyles like the name implies are hairstyles that tuck the ends of your hair away, protect and keep it free from manipulation thereby stimulating healthy hair growth while minimizing hair loss. They include wigs, braids, buns, locs and twists among others. Before going to your hairstylist or ordering a braided wig, you need to know or have a picture of the hairstyle you'll love to make, know what the hairstyle is called and what it looks like. Aiming yourself with this knowledge will make a world of difference when it comes to getting a protective hairstyle.
Outlined below are the different types of protective hairstyles with picture references.
A) BRAIDS: Braids are one of the most versatile forms of plaiting, as they can be done in several ways from free-falling strands to small or jumbo-sized sections of hair. Braids effectively protect your ends by having them woven together. If you're a naturalista, you will need to blowdry your hair to stretch out the strands before you get started. Examples of braids include:
Knotless Braids: Known for its natural look because of the technique used, knotless braids are more edge-friendly as they do not put a lot of tension on the scalp. It is done by starting with the hair and then gradually weaving extensions into it in a flat formation. They come in square parts and triangle parting spaces. Can't sit through the process? Try our Knotless Braids wigs.
Credit: @houstonbraidstyle
VIDEO TUTORIAL: How Ashley installed our Triangle Part Knotless Braided wig
Boho Braids: How about a mix of extension and crochet hair? That's what you get with Boho (or Bohemian) braids. They're the classic messy braids that seem to have loose, undone and uneven ends with each strand different in its special way. It's certainly a showstopper.
Credit: @betty_bella_braids
Jumbo Braids: Very much like box braids, this big-section style leaves you with bigger and thicker boxes of hair that are woven into weighty plaits. However, the parting may be square-shaped or triangle-shaped. What's more? Because they're so big, they're very fast to achieve and don't require you to sit for hours to get your hair styled. Talk about a cheat code!
Credit: @jdivastyles
Micro Braids: This is certainly for those with a huge dose of patience. Micro Braids are teeny-weeny, sleek braids woven into your hair with hair extensions to any length you desire. Installing them can take hours (and a team of stylists) but once you're done, it's not hard to see why. At one point, the tiniest forms of micro braids were called 'Million Braids', unsurprisingly so. Looking to create one? Check out our Micro braids.
Credit: @machine_hands
Bob Braids: Want that short and sweet curvaceous vibe of a bob hairstyle along with the lasting quality of braids? Then, this is your go-to choice. Bob braids are not only glamorous in their own right but also make for a convenient style that you can alter to suit your style. Rock this style for less with our Bob Braids wigs.
Credit: @sadeslayedit
Butterfly (Jungle) Braids: These braids recently made it to the hair industry following the Butterfly Locs style. Just like the butterfly locs, they're made by adding loops throughout the braid strands giving them that jungle look.
Credit: @slaybyvee
Box Braids: Box braids are named after the square shape sectioning at the root of your hair. Some box braids are sectioned as triangle parts. They're done by wrapping hair extensions around your strands at the root to create a knotted effect and they come in several lengths, sizes, and colours. Enjoy the flexibility of creating your unique box braids without having to sit on the stylist's chair with our Box Braids wigs.
Credit: @davethestylist
B). CORNROWS: Cornrows are a braiding style that involves plaiting the hair close to the scalp in arranged, continuous forms. From simple back-sweeping styles to elaborate patterns, cornrows can take any shape you want. With careful maintenance, they can be left on for weeks at a time. Cornrows can be done in several patterns:
Feed-in Braids: These seamless-looking braids are created to have an illusion effect. With the hair extension gradually fed into your hair as they weave further away from the edges of your hair, the result is a smooth blend-in that can almost pass for your natural hair.
Credit: @hairstyles_misutotz
Tribal Cornrows: These styles are very much true to the ethnic roots. Many African-themed styles fall under this category. Take the Fulani braids for example. The popular tribal braiding style originated from the Fula people of West Africa or the Sahel region. It often features a braid in the centre of the hair, with other braids woven in alternating directions and decorated with traditional beads to create the perfect finish.
Credit: @narahairbraiding
Mohawk or Faux hawk: If you want the perfect dramatic look, mohawk or faux hawk is your top choice. They are versatile and can be styled to your unique preference. They give you a combined look of cornrows on both sides of the head and braids, twists, locs, coils or any other variation you want.
Credit: @adorablebraids
Fishbone Braids: If you are wondering what the best look for formal events is, then look no further. Fishbone braids are what you should opt for. Many stylists believe that there are two types of fishbone or fishtail) braids. The African variant is done by weaving tiny cornrows on the scalp at the base and then braiding all the tips together into one thick braid. The central braid joins with the thinner cornrows giving the appearance of a fishbone. The second type of fishbone braid is alternatively known as Herringbone braid and can be likened to the herringbone sewing pattern for fabrics. It features a large braid that resembles the skeleton of a herringbone fish. This style can also be made as a wig like our Fishbone
Credit: @braidsbyjackie
Stitch Braids: Almost a replica of traditional cornrows, stitch braids employ a different technique to achieve the stitch appearance. Unlike the regular cornrows which involve using the thumb, index and middle finger to achieve the look, the stitch technique requires the use of the nail on the pinky finger to create the lines that give the stitch-like pattern. Can't sit through the process, our stitch braid wigs are easy to wear.
Credit: @preciious_braiids
French Braids: Similar to what is known as matting, the French braid is an inverse pattern of braiding that involves bringing the exterior hair strands over the middle section. It is chic and classy and can be rolled into high buns or chignons at the nape of the neck.
Credit: @teresashairstyles
Cornrow Ponytails: A stylish combination of cornrows running towards the middle of the head and long braids (or weaves, as you desire) cascading down the tips of the cornrows. Thinking of getting this style as a wig? Our Ponytail wigs are your best bet for getting this look without the pains.
Credit: @ohsoyoumeek
Halo Braids: Halo braids feature one or two Dutch braids wrapped around the head in a circular motion, and pinned together to surround the area known as the crown. Halo braids can be as huge as you desire and can be combined with accessories for that angelic effect.
Credit: @252unstoppablebraider
Lemonade Braids: Named after the iconic album by Beyonce, lemonade braids feature cornrows woven from one side of the head to the other, with the ends of the cornrows woven down into long braids that flow down the ear. Many women incorporate the lemonade braid with other braiding techniques such as alternating thick and thin sizes, spiral parting and stitch-braiding among others.
Credit: @252unstoppablebraider
Snake Braids: These braids pull out all the stops, literally. Popular especially among male rap and hip hop artists in the early 2000s, snake braids get their name from the S-pattern or spiral shape that snakes are known for. The zig-zag form can be as thick or thin as you want.
Credit: @carla.jean_
3. TWISTS: Talk about the classic protective style and this will be a popular opinion. No matter what you want, these sectioned two strands of hair wrapped around each other often nicknamed "rope twists" will do the magic of keeping your hair's moisture on lockdown. The following are examples of Twists:
a) Senegalese Twists: The Senegalese twist is versatile in shape, form and appearance. Senegalese Twists can take any form you want, from the simple one made with your hair to the long-lasting one that features hair extensions for added protective advantage. And if you don't want the regular hair extension, feel free to spin it with a Marley, crochet or Caribbean extension.
Credit: @unik_touch
Micro twists: Just like the 'million braids' referenced earlier, micro twists are a bulky, time-consuming style that can take up to three days to install! Yes, and that's because the hair strands are sectioned into tiny bits to achieve the eventual mini-sized look. You'll need to brace up for this one.
With our micro-twist wigs, we take the pains off you so that you don't have to sit through that process and still get the same look.
Flat Twists: Think of a combination of cornrows and twists, and you get this. Flat twists are a popular trend within the natural hair community. The hair is twisted in the same manner as you would do a cornrow down on the scalp. Large or small, flat twists give off a classy and sophisticated look that's unbelievably achievable within minutes. They can be done with natural hair or any kind of hair extension.
Credit: @sandybeautyhair
Ultra-Slim Twists: If you have ever wondered how tiny twists can go, then this is what you are looking for. Ultra-slim twists live up to their name because they almost look like a weave that can be combed through with a brush. The strands are thinly sectioned, making that final look achievable but this style is not recommended for manual install on your natural hair as it could take months to finish this style on your natural hair. At Finest Hairs, our Ultra-Slim Twists braided wigs which can be made in any colour of your choice will give you the comfort of looking like a million bucks without sitting through the tedious process of making these light-weight twists.
Shop this wig here
Chunky Twists: Big, bold and beautiful. The three words that best describe the chunky twist hairstyle. Whatever your style, there's always something for you with chunky twists. You can make them into updos, bob braids, top-knot, pompadours and lots more.
Credit: @pearlthestylist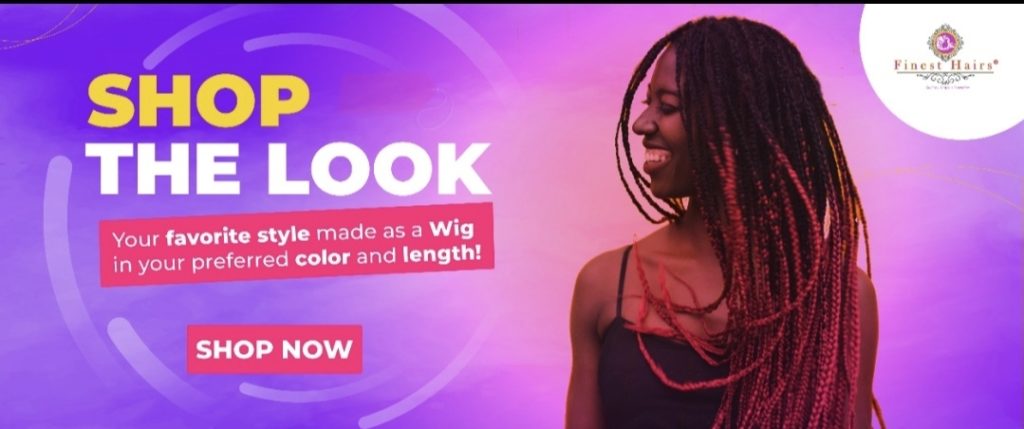 4. LOCS: While these are the most similar to braids, locs are unique in their special way and have a reputation all over the world. Locs are especially known to not require any form of brushing or combing, as they get their peculiarity from being 'locked' together to form the desired pattern. And the longer they last, the better they look. Great, isn't it? Locs come in all shapes and sizes, including the following:
Butterfly Locs: Often confused with distressed locs, this curly-cum-bouncy locs is achieved by looping wavy hair into previously braided hair in a braid and wrap style. What's more? They can last up to 8 solid weeks! Remember, grooming and caring for the hair must not stop should you decide to leave it on for longer. Get yours here.
Credit: @narabraiding
Distressed locs: These are far from your regular locs that are smooth and plain to the touch. Because of their roughness (due to the pulling/distress}, distressed locs tend to have more texture and look more natural and realistic. They look more like actual, natural locs than faux locs, and can sometimes be installed using the crochet method.
Credit: @carlisbeautyhair
Dreadlocks: Every type of loc known to man was directly or indirectly inspired by the dreadlock. While some people are born with theirs, others grow and nurture them for personal style and choice. In cases where they have not been grown naturally, dreadlocks are styled but eventually require a maturation period. Artificial designs now make it possible to install temporary dreadlocks without permanently changing the hair structure of the wearer or going through the entire loc journey. Due to political correctness, it has been emphasized over the years that the term 'dreadlocks' is wrong and offensive because of the historical origin of the wearers. 'Locs' is a more acceptable term.
Credit: @bee_natural_locks_
Faux locs: These are achieved by wrapping synthetic hair around your natural human hair. A popular low maintenance style, this styling choice works best when you want to make a bold, bohemian, non-conformist look. They look very much like traditional locs and can be installed with either the braid and wrap method or the crochet method.
Credit: @curls_and_coils_atl
Video Tutorial: Faux Locs Wig Installation
Goddess locs: With a befitting name that certainly speaks of royalty or something out of this world, goddess locs combine the protective dimension of locked hair with open, wavy ends that gives the hair a softer, silkier and more sensual look.
Credit: @simplygeniee
Nu Locs: Made from premium fibre, Nu Locs are installed mainly as crotchets and are easy to rock because they are lightweight and webbed to give off a natural look. They can be washed and even reused multiple times depending on how well you care for them.
Credit: @stormnyx
Soft Locs: This is a mild upgrade on the Nu Locs. It's made by wrapping a synthetic hair midway around the length of the Nu Locs leaving the tips unwrapped giving the 'distressed locs' look with a bit of the Nu locs effect.
5. SPRING TWISTS AND PASSION TWISTS: If you're looking for something that works all year round, then spring and passion twists are your go-to option. They work perfectly for all weather types, while still giving you a natural look, and offering a protective edge for your hair. The hair extensions for spring and passion twists style are very similar, so much so that they are sometimes confused for each other. But here's two ways to differentiate them: Spring twists are made with pre-twisted or wavy-patterned hair. They have a more natural look and a bit of rough texture while the Passion twists come in a pre-curled (not twisted) form. They look shiny and have a smooth texture. Both of them however create a springy and bouncy result that can be worn in any style, from buns and side-swept styles to updos. They also come in different colours.
Passion Twist. Credit: @rebikaella
Spring Twists. Credit: @sistersbraidsnl
Watch our Spring Twists Wig installation video.
Shop this wig here
6. BANTU KNOTS: This protective hairstyle, which is native to the Zulu people of South Africa, is made by twisting your hair around itself to form a knot that resembles a stack of tires. They can be made with your natural hair or you can add extensions if you want them bigger and more elaborate. Bantu knots are a great protective style that helps to achieve heatless curls for all hair types. Simply loosen the knots after you have worn them for a substantial period, say a week or two. Then, you're ready to rock a whole new look!
Credit: @malikaxm
7. THREADING: Popularly known as African threading and a particular favourite of the natural hair community, threads are great for stretching your hair without any heating tools. They help with length retention and also protect the hair from the dryness or humidity of the weather. Threading style features using black thread (or any other colour of your choice) to wrap around your hair from the roots to the tips. This is the classic African threading style, although there are several variations where the threading is done in diverse ways, for instance, spacing the thread to show some hair and create a twist-like pattern.
Credit: @hairgicianshub
That's it! Now you know what to do to keep your hair from breaking, shedding or whatnot. Also, remember that these styles can be adorned or styled however you desire. However, not everyone can sit through the hair-making process and this can be due to scalp sensitivity, low pain threshold, time restraint, hair loss and other reasons. Nonetheless, our braided wigs can come to the rescue. They're neatly made and look natural like scalp when you wear them. Most times, people won't know you're wearing a wig except you tell them.
And if you want something different, our custom order service is available to help you create exactly the look you want. Remember, with just a few plaits to keep your hair matted down, you can rock our wigs for as long as you want. They are handmade by professional braiders and durable to serve you for a long time to come.
So, which of these styles do you love the most? Share with us in the comments. You know we love to hear from you!
Please Share